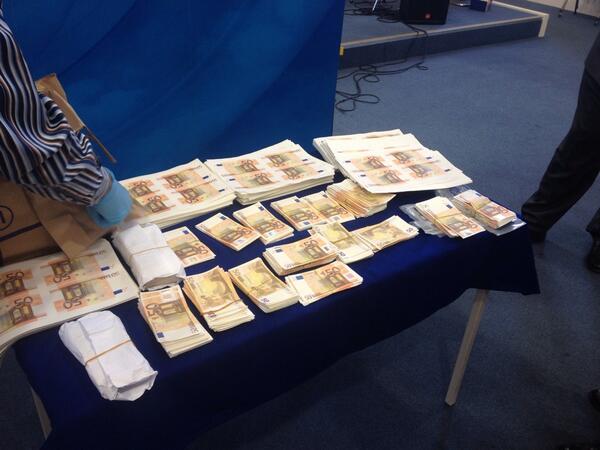 Counterfeit cash with a "potential value" of over €2million was seized by gardai during a major raid last weekend.
One part of the impressive haul was put on display at garda headquarters on Friday.
And officers have issued a warning to traders saying that some notes may have already made it into circulation.
The bogus €50 notes shown in our photos are in various stages of completion.
Four boxes, containing notes worth in excess of half a million euro, were seized during the raid on a property in Co Meath.
Gardai also seized a massive printer, weighing two tonnes, and several computers used to create the bogus notes.
Three people are currently before the courts in relation to the seizure.
Superintendent David Taylor explained that the operation was part of the force's actions to tackle subversive and organised crime activities.
"An Garda Siochana are focused on targeting and disrupting any operational planning or logistical support being conducted or contemplated in this jurisdiction.
"The level of policing and security resources, both overt and covert, dedicated to this task continues to be commensurate to the threat posed."
Supt Taylor explained that the notes are effective counterfeits and would easily pass in nightclubs, bars and other cash-heavy businesses.
However the security feature has been embossed onto the notes rather than embedded.
He added that eagle-eyed traders should be able to differentiate the watermark on the bogus notes.
A UV light would also identify if the note is real or not.
Supt Taylor explained that gardai are endeavouring to "thwart terrorist activity on this island".
"As a result of many garda operations some 46 persons are currently before the Special Criminal Court to answer a range of charges including membership of the IRA; possession of firearms and possession of explosives.
"Many of these operations included seizures of firearms and explosives."
He added that gardai work closely with their colleagues in the PSNI and internationally to tackle subversive groups.
SOURCE-IRISH NEWS